Production Information
UC2-360 360° Meeting Webcam
Introduction:
With the UC2-360, you can enhance your conference calls with 360° video and omnidirectional audio. The 360° camera is plug-and-play, meaning there is no driver installation required. The UC2-360 supports 1080p video playback @ 30 Hz with several different display modes including full screen, all around view, host, dual host, single view mode 90° and wide angle view 120°



Mode Button:
Six display modes Press the "Mode" button to select camera mode
1. Full screen mode
2. All around view mode
3. Host mode: use the touch bar to specify the participant's location
4. Dual host mode: use the touch bar to specify the two participants' locations
5. Single view mode (S) 90°: select single mode and turn the camera to the vertical position
6. Single view mode (L)120°
LED indicator
Blue = In use
Purple = Power on
Red = Mute
Touch Bar
When selecting host mode or dual Host mode, swipe or touch the touch bar with your fingertips


Start a video call with your UC2-360
Ensure your PC, Mac® or Chromebook™ has Internet service, and both you and the person you call need to use a video calling application. Select the correct video device and microphone in the settings menu in the video calling application.
For Windows® 10
The UC2-360 provides full HD 1080P video calling, with a minimum of at least 2 megabits upload speed.
1080p calling may be affected by available network bandwidth, CPU speed, type of video calling application, etc.
Wide Compatibility: Zoom™, Facebook™ Messenger, Skype™, Microsoft® Teams, etc.

1. Go to Start > Settings > Privacy > Camera/Microphone
2. Choose your preferred settings to allow apps to access your camera and microphone.
3. Turn on your camera and microphone for apps.

Privacy settings for macOS®

1. On your Mac® choose the Apple® menu > System Preferences, click Security & Privacy, then click Privacy.
2. Select Camera/Microphone.
3. Select the checkbox next to an app to allow it to access the camera and microphone. Deselect the Checkbox to turn off access for that app. If you turn off access for an app, you will be asked to turn it on again the next time that app tries to use your camera or microphone.
Function: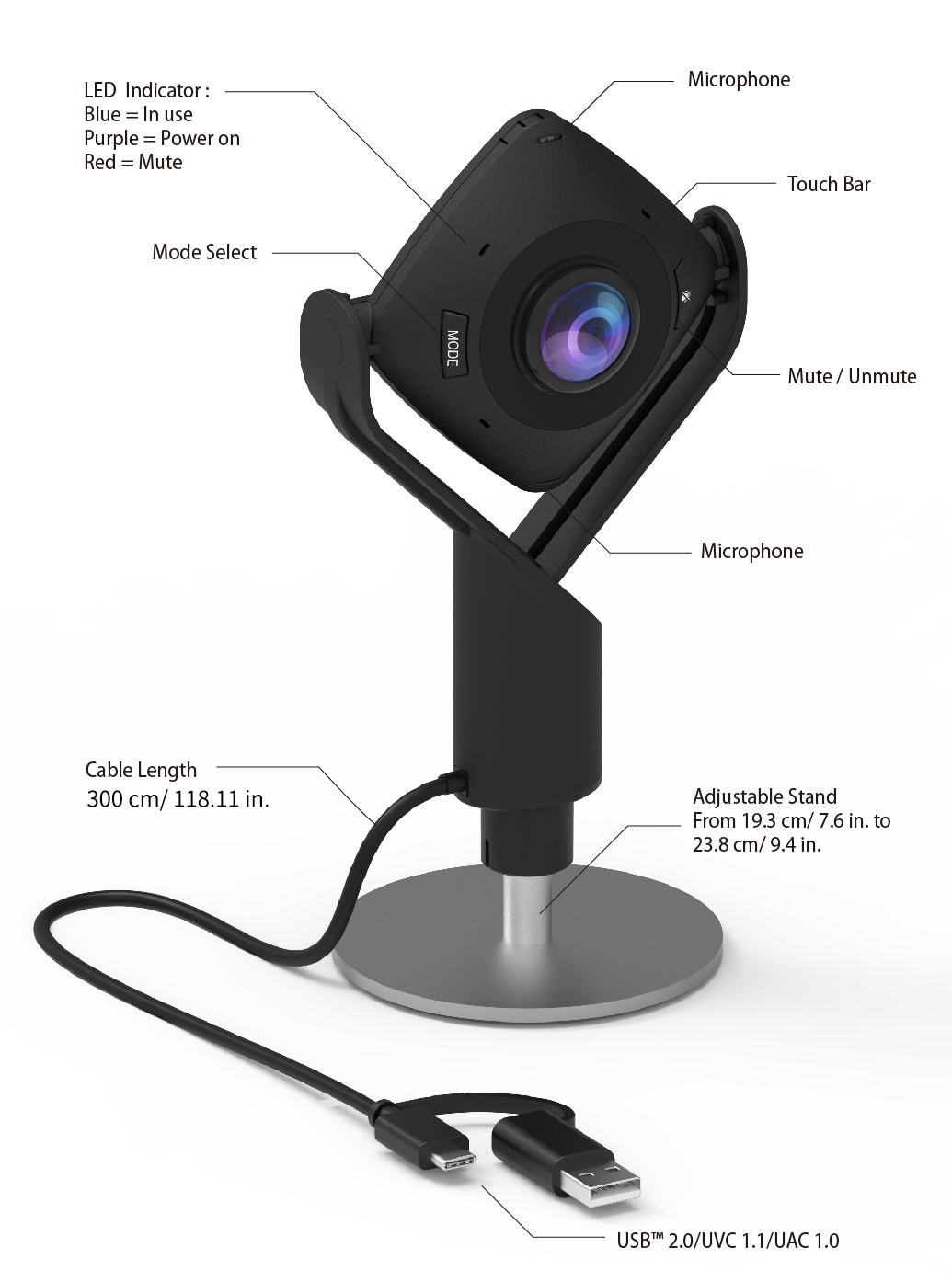 Microphone: 2-Channel
Compatible with USB™ 2.0/UVC 1.1/UAC 1.0
Buttons: Mic mute button x1 / Select button x1 / Touch bar x1
Camera Lens FOV: 230°
Built-in USB™ Type-A Cable (150 cm/59.06 in.)
Main body: 9.35(W) x 3.7(D) x 19.3(H) cm
Stand telescopic range: 4.2 cm
Cable Length: 300 cm/ 118.11 in.



Specification:
Hardware

LED

Blue = In use

Purple = Power on

Red = Mute

Display Modes

1. Full screen mode

2. 360° all around view mode

3. Host mode

4. Dual host mode

5. Single view mode (S) 90°

6. Wide angle view mode (L) 120°

Mic

2-Channel

Connection

USB™ 2.0/UVC 1.1/UAC 1.0

Cable

Built-in USB-C™ cable with USB™ Type-A converter (300 cm/118.11 in.)

Buttons

1 - Mute/Unmute

1 - Mode Select

1 - Touch Bar

Performance

Maximum Display Resolution

640 x 360 (MJPEC)

640 x 480 (YUV)

1280 x 720 (MJPEC)

1920 x 1080 (MJPEC)

Maximum Refresh Rate

30 Hz

Display Size

Full screen mode: 1920 x 540, 1920 x 540

360° all around view mode: 1920 x 270

Host mode: 1920 x 270, 1920 x 810

Dual host mode: 1920 x 270, 960 x 810

Single view mode (S): 1920 x 1080

Wide angle view mode (L): 1920 x 1080

Display FOV

Full screen mode: 2 - 180°(H), 53°(V)

360° all around view mode: 360°(H), 53°(V)

Host mode: 360°(H) , 120°(H), 60°(V)

Dual host mode: 360°(H) , 60°(H), 60°(V)

Single view mode: 90°(H), 60°(V)

Wide angle view mode: 120°(H), 60°(V)

Camera Lens FOV

230°

Power

Power Delivery

N/A

Power Consumption

Approximately 500 mA

Physical Specifications

Color

Black

Enclosure Type

ABS

Cable Length

300 cm / 118.11 in.

Product Dimensions

Main body: Approximately: 0.66 lbs./300g
Stand telescopic range: 4.25 cm

Product Weight

≒350g

Storage Temperature

–4°F to 140°F (-20°C to 60°C)

Storage Humidity

< 90% non-condensing

Operating Temperature

41°F to 104°F (0°C to 40°C)

Operating Humidity

< 90% non-condensing
System Requirements
Available USB-C™ or USB™ Type-A port
Windows® 10
macOS® with UVC support
Chrome OS™ with UVC support
Operating systems with standard UVC/UAC drivers

Special Notes:

If you push the mute button, people will only see your video, but not hear your audio. This will be indicated by the LED light.
To prevent & eliminate microphone/audio feedback, the recommended distance between the microphone and the speak is 5 to 10 ft. (150 to 300 cm) depending on the space layout
Designed with medium to large groups in mind
Package Contents:
UC2-360
Quick Installation Guide